The Chapman Stick Discography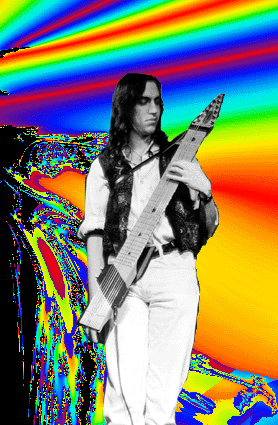 by Chuck Ivy and Rob Mellor
Last Updated: 3rd January 2005
---
About The Stick:
This is a partial discography of music recorded including the use of an instrument called the Chapman Stick. The Stick is an electric stringed instrument that combines the range of the guitar and bass with a technique more similar to a piano. Available in 8, 10 or 12 string models, its strings are tapped and held to create musical tones. A note can be created by a single finger, thus allowing both hands to play independent bass and melody lines -- no strumming or plucking is needed.

For more information about the Stick, contact:
Stick Enterprises, Inc.
6011 Woodlake Ave.,
Woodland Hills, CA 91367-3238

Phone (818) 884-2001
Fax (818) 883-0668
Email info@stick.com
Also, check out the Stick Enterprises Web Page.

Stick and The Stick are registered trademarks of Stick Enterprises, Inc., and are used with permission.
About this Discography:
This discography currently contains information for 451 recordings.

This document is by no means complete; given that new recordings are continually being made, it probably never will be. We have, however, entered the basic framework for all the recordings we know of.

Note that we are not currently including track listings or additional musicians in the discography. Such additions, while wonderful for completeness, would only add to an already Herculean task. For many of the artists in this discography you will find track listings, personnel and much more by referring to their websites, or by consulting individual discographies for specific artists. This is, first and foremost, a Chapman Stick discography.

We would welcome your additions and suggestions. To submit an entry, email Rob Mellor at stickdisco@yahoo.co.uk or Chuck Ivy at cei@io.com.
Recent updates:
03rd Jan 2005: Add work by Larry Tuttle, Arthur Durkee, Tony Levin, X-Ray-Simon
11th Aug 2004: Add work by Trey Gunn, Nik Guadagnoli, Tom Griesgraber
15th Jun 2004: Add work by Don Schiff, Gilles Coquard, Jaap Kramer, Chris Donohue
15th Jun 2004: Add work by Fergus Marsh, Nick Beggs, Eric Hausmann, Alphonso Johnson
24th Apr 2004: Add work by Remco Helbers, Larry Tuttle, Juan R. Leon
16th Apr 2004: Add work by Ryan Birsinger, Tony Levin, Teed Rockwell, Al Sladik
14th Apr 2004: Add work by Davide Piai, Hans Hartmann, Gene Perry, Marque Gilmore
---
How to use this Discography
The discography is sorted by the name of the primary Artist or Group. This way, if you don't know the name of a particular Stick player, you can still access the information in a useful way. If, on the other hand, you are more interested in tracking down recordings by a particular Stick player, you can search the discography by player to see what bands they have played with.

The release information is arranged as follows:

   [release date] [recording medium] [country] [record label] [catalog #]


The abbreviations for recording medium are:

	CD - compact disc			LP - record album
	CA - cassette			CS - CD single
	CE - cassette single		45 - 7" single
	12 - 12" single			VHS - VHS Video
	PAL - PAL Video

The abbreviations for country are:

	US - United States		UK - Great Britain
	JP - Japan			FR - France
	CA - Canada			GR - Germany
	AU - Australia		AR - Argentina
 	NL - Netherlands      	PL - Poland


Some of the recordings are marked as being available directly from either the artist, or from a particular distributor. In those cases, a hypertext link can show you correspondence and purchase information.
Credits and Acknowledgements
Portions borrowed from or confirmed by the discographies compiled by Mike Borella, Emmett Chapman, Dave Datta, Corey Nelson, and John M. Relph.

More contributions by Louis Hesselt-van-Dinter, Karsten Röth, Ken Tidy, Yannick Lepetit, Andy Long, David Dalton, Ben Poole, T.S. Davies, Malcolm Humes, Arthur Klassen, Alan Marr, Arthur Marsh, Nick Beggs, Don Schiff, Greg Howard, Fergus Marsh, Tony Levin and many others. -- THANKS!!!
---
Keep Tapping!

Chuck Ivy <cei@io.com> Rob Mellor <stickdisco@yahoo.co.uk>